The May's Service Center Homebrew Tent will return to the Ninth Annual Lititz Craft Beer Festival on September 23rd, 2023. We will again invite the brewers of the top 10 entries to our Homebrew Competition to pour their beers for public vote prizes and the chance to have their brews reproduced in a commercial brewery.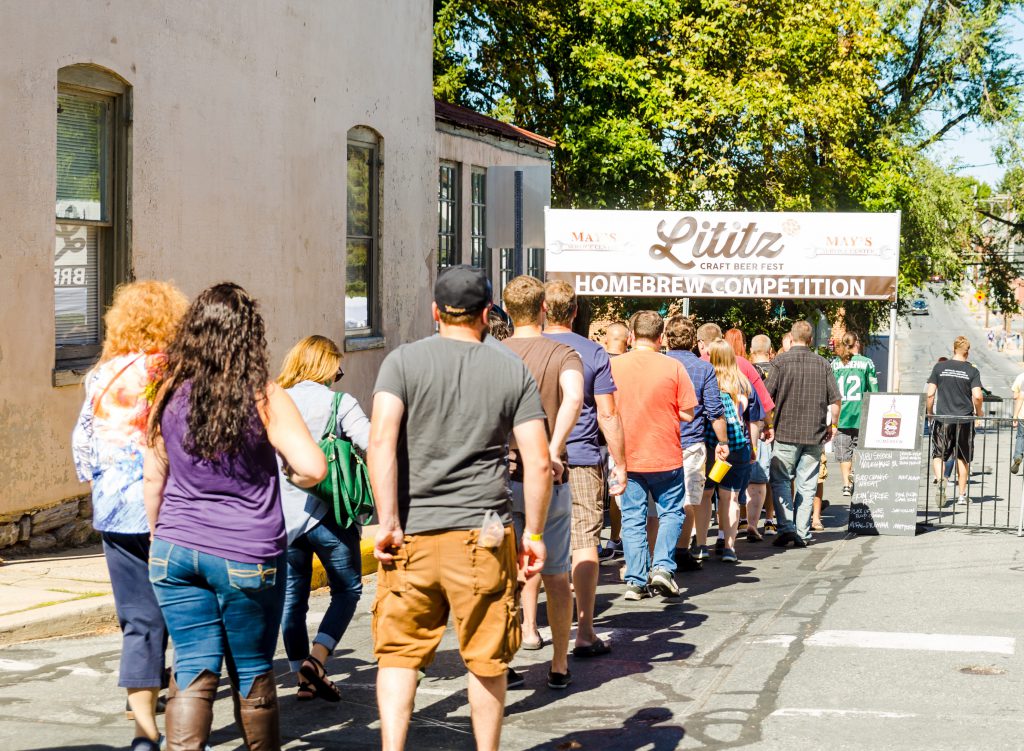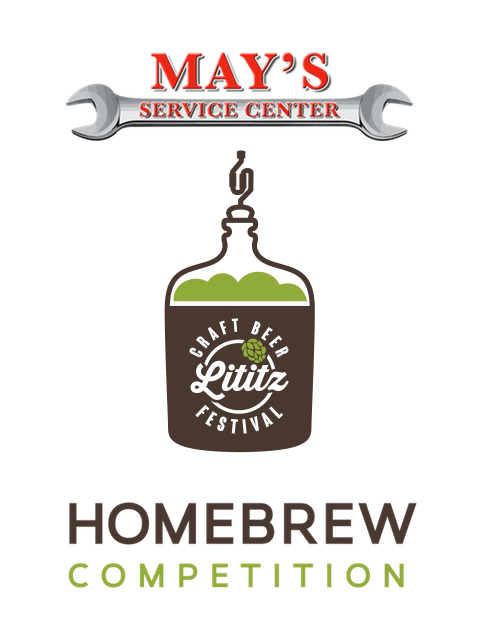 If you have any questions, please email us at [email protected].
Graphics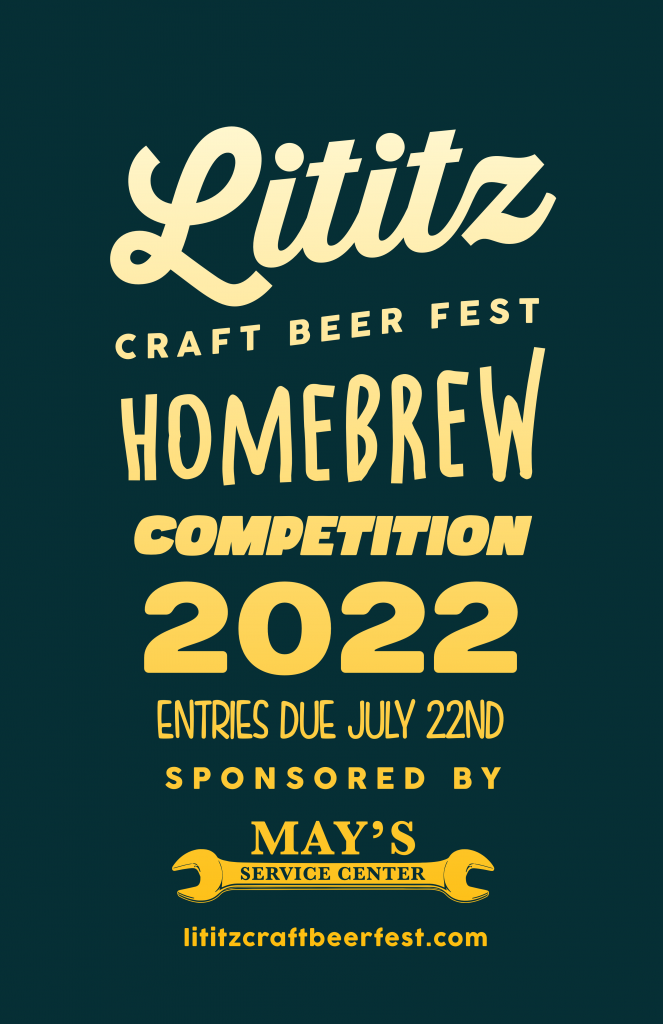 History
Here are the top 10 finalists from each of our previous competitions. Lititz Craft Beer Fest began in 2014. There is no significance to the order of these lists after the placeholders.
2022 Finalists
1st Place Public Vote
Michael Blose
Blueberry Limon
Sour
2nd Place Public Vote
Chris Swentner
Coconut Joe
Coconut Coffee Stout
3rd Place Public Vote, Big Dog Craft Brewing Brewer's Choice
Kyle Trunk
Riptide
Weissbier with pineapple, mango, and peaches
Pour Man's Brewing Company Brewer's Choice
Mike Fegely & Alastair Peters
Dark Mild
Cox Brewing Company Brewer's Choice
Mike Adair
Just a Hare
Belgian style amber with coriander and orange peel
Starview Brews Brewer's Choice
Josh Turner
Half Day Hazy
Hazy IPA
John Scanlon
Welcome to Earf
IPA
Kiel Fisher
Rom Baro Märzen
Jake Gross, Tom Bavaria, & Andy Lacek
Cream Ale
Jesse Stoner
Blondé Rosé
Belgian blonde ale with strawberry and raspberry
2021 Finalists
1st Place Public Vote, Mad Chef Craft Brewing Brewer's Choice
Tony Morrell
Mango Habanero Sour
2nd Place Public Vote
Ed Herbert
Vacay Bay Bay
Apricot Amber Ale
3rd Place Public Vote
Matthew Campbell
Chocopotle
Imperial Oatmeal Stout with chocolate and chipotle peppers
Pour Man's Craft Brewing Brewer's Choice
Eric Fletcher
Munich Dunkel
Big Dog Craft Brewing Brewer's Choice
Kyle Criste
Tripel Crown
Belgian Tripel
Cox Brewing Company Brewer's Choice
Josh Shock & Dave Hume
Alter the Sound
New England IPA
Josh Ford
Jules & Vincent
Imperial Stout with coffee
Josh Turner
Route 10 IPA
American IPA
Josh Shock & Dave Hume
She Said, Somewhere Different
Sour Blonde with Blackberry
John Shirk, Jerry Zimmerman, and Howard Fryberger
Every Damn Time!
Blood Orange Hefeweizen
2019 Finalists
1st Place Public Vote, Cox Brewing Company Brewers Choice
Clockwork Oransje, Gose

Matthew Campbell

2nd Place Public Vote
Did It All For Chinookie, American IPA

Steve Palmer

3rd Place Public Vote
Mid-Day Mango, Pale Ale

Bill & Steph Hapenovich

Pour Man's Brewing Brewers Choice
One Way or Another, American Blonde Ale with Orange Peel

Josh Shock, Dave Hume & Zach Shock

Spring House Brewing Brewers Choice
What's Wrong With Cloud 8?, Hazy Double IPA

Wayne Swartz & Jason Bartch

Wee Special, Wee Heavy with Coffee aged on Bourbon Oak

Paul Cowan

Rye Altbier

Mike & Amber DeGrace

Tropical Stout

Mike & Amber DeGrace

Cadillac Tire, American Amber Ale

Steve Wakefield

Ascending Arc, New England IPA

Bill Balistreri
2018 Finalists
1st place, Chocolate Chips in My Pancakes

Step Brothers Brewing, Porter

2nd place, Strawberry Not Darryl

Steve Nott, Milkshake IPA

3rd place, It's 10:33

John Scanlon, American IPA

JoBoy's Brewpub Brewer's Choice, WTHelles

Brian Mills, Helles Lager

Cox Brewing Company Brewer's Choice, New American Slang

Josh Shock, Dave Hume & Zach Shock, American Pale Ale

From Moscow With Love

Josh Shock, Dave Hume & Zach Shock, American Strong Ale

At The Garden's Edge

Jared Wolfe, Hibiscus Saison

Lime Cucumber Blonde Ale

Dave Timblin & Ryan White, Blonde Ale

Blue Harvest

Brooks Edman, Berliner Weisse

Mango Lassi

Brooks Edman, Berliner Weisse
2017 Finalists
1st place, Creamsicle Blonde Ale

Matthew Campbell, Blonde Ale

2nd place, Breakfast in the Dark

Adam Chamberland, Imperial Stout w/ Maple Syrup

3rd place, Zephyr

Mike Fegely & Alastair Peters, Pale Ale

JoBoy's Brewpub Brewer's Choice, Zephyr

Mike Fegely and Alastair Peters, Pale Ale

Second Glances – Head Rush

Nehemiah Talbott, American Amber Ale

High Amplitude

Bill Balistreri, Imperial Stout

Descending Arc

Bill Balistreri, IPA

Raspberry Beret

Kristen Richards, Milkshake IPA

Touch of Rye

Mike Adair, Brett Saison

Easy Come, Easy Gose

Josh Shock, Dave Hume & Zach Shock, Gose

Hazy With a Chance of Hops

Brian Wagner, Imperial IPA
2016 Finalists
1st place: Maple Bacon Coffee RIS

Chris Harvey & Caitlin Miletto

2nd place: Yuzu Session Milkshake IPA

Derek Wolf, Brad Moyer & Dean Pierce

3rd place: Goin' Broke IPA

Ryan Foltz & Sam Son

Hop! In the Name of Love

Matthew Kupchinsky

Hazy Shade of Summer

Craig Fahnestock & Mike Baer

Red Craic

Brian Wagner

Melon Felony

Tim Myers

Blood Orange Wheat

Mike Adair

Slice of Life/Blood Orange

John Scanlon

Moral Dilemma

Matt Topper
2015 Finalists
1st place: The Gourd, The Bad, The Ugly

Steve Anderson

1st place: Stowaway Stout

Adam Chamberland

2nd place: Solar Terminator

Derek Markel

3rd place: Surfboard Session IPA

Matt Ranauro

Pumpkin Pecan Pie Porter

Travis Markel & Damien Garloff

Double West Coast IPA

John Palmer

Hop Along IPA

Steve Foose

Batch 40 Pale Ale

Andy Good

The Rites of Signage

Shane Pawelczyk

Tropical Implants w/Citra

Derek Markel
2014 Finalists
1st place: Scottish Ale

Kathy Yellets & Kelly Fedin

1st place: Smoked Chipotle Porter

Brian Thomas, Jason Clement & Will Meiser

2nd place: Smashed Wolf

Allen Arslanian

3rd place: Bride of Zombie

Harold Ford

4th place: Pale Ale

Brian Wagner

California Blonde

Craig Fahnstock & Mike Baer

Sour Cherry Berliner

Jon Briggs

Italian Breakfast

Dean Pierce & Steve Buller

Post Ride Pale

Eric Stoffer

Hot Pine IPA

Michael Foster